Position: Internship in Credit department
Job description
Learn to screen application documents from applicant.
Pay a site visit to applicant to conduct credit checking.
Learn to key in applicant information in system and analyze applicant's credit situation.
Write credit report and present to credit authority.
Update database information in system.
More details will be discussed at the interview.
Job requirement
3rd year or last-year student, major in Banking, Finance, Economics, Accounting, Business Administration, Foreign Trade.
Basic skills in Microsoft Office (Power point, Word, Excel).
Fluent in English speaking and writing.
Analytical mind, team spirit & able to work under pressure.
Working place: Ho Chi Minh city, Ha Noi.
Benefit
Opportunity of developing financial knowledge and experience.
Opportunity of building up wide relationship with business enterprises.
Internship allowance.
Official employee of Chailease is considered to offer to good performance internship after internship period.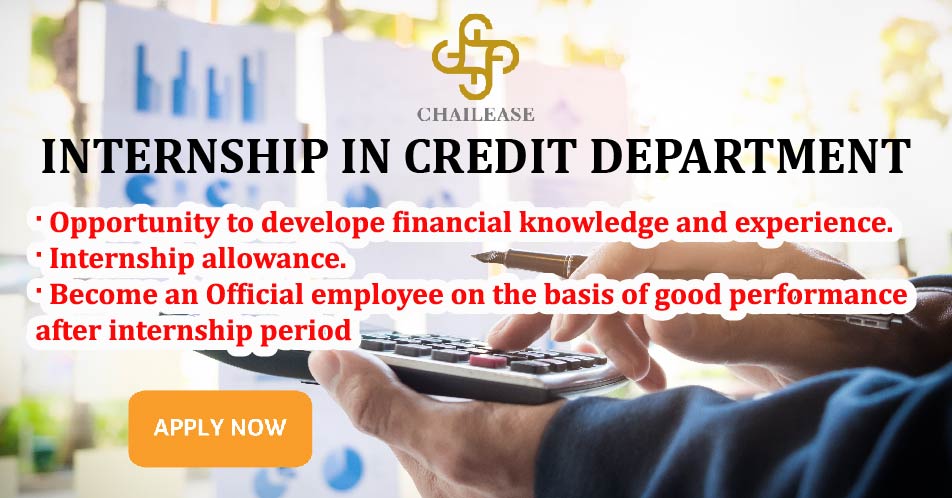 Application
Please send CV in English to CHAILEASE INTERNATIONAL LEASING CO., LTD
Email: service02@chailease.com.vn; OR
Send to Messenger box of Facebook Chailease
Contact: Ms. Ngoc Anh – Tel.: 028.7301 6010 Ext: 8203
Address: 28 Fl, Saigon Trade Center Building, 37 Ton Duc Thang, District 1, HCMC
Tin tức khác