Managing and operating small and medium-sized enterprises (SMEs) always brings many challenges for managers when faced with a wide range of problems from business, human resources, internal management ... 5 tips below will support managers to generalize their problems and run the business better.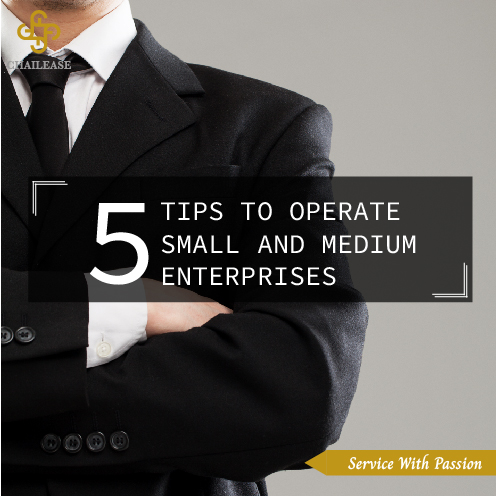 New ideas about products and services are not enough to help businesses have a statement in the market, when the level of competition is increasingly fierce from domestic and international competitors. When entering the market, a business must have a proper strategy to find its "blue ocean" by outlining the image and characteristics of their target customers the business is aiming for, that gives a strategy to penetrate the niche market to reach customers.
Branding and creating marketing/PR plan
Business branding is not only the story of multinational companies or large corporations, but also of all businesses entering the market. Define brand's personality and characteristics through logo, slogan, color, vision, mission, ... Then set up a communication campaign to promote business activities. Many small businesses are still afraid of spending their budget on advertising, but this is a necessary activity to help businesses locate and maintain a position in the customer mind.
Managing capital and financial budget
Finding capital and managing cash flow is one of the management problems. In addition to available capital and bank loans - financial leasing has become a form that many managers seek to supplement capital for businesses with many advantages such as: no need for collateral, there is can own the property after renting, the finance rate is high ... Thereby, financial leasing has gradually become a reliable mobilization channel for many businesses. Besides, managers need to pay attention to cash flow management, rational budget allocation for business activities to minimize the risk of a shortage of cash flows; through consideration of financial ratios such as operating costs, selling costs, gross profit margin, financial intermediaries ...
Building processes and internal controls
In order to run the business smoothly from beginning, managers need to build internal processes with the right policies for the relevant departments. Systematizing processes helps businesses save time and operating costs, in addition, administrators can quickly handle arising problems in the operation process based on principles and processes that have been given. The loss or replacement of the person in charge will also be going streamlined and will not affect the performance much.
Applying digital platforms and digital marketing
The advantage of start-ups when entering the market is that the application of new technologies at the beginning helps businesses optimize business operations. In the 4.0 era, administrators easily find a series of multi-tasking management software supporting fields such as accounting, warehouse, sales ... to help businesses manage more easily and effectively besides HR cost savings. In addition, digital marketing is focused by many start-ups due to its high efficiency and lower cost compared to traditional advertising channels. Taking advantage of social networking platforms such as Facebook, Zalo, Instagram, LinkedIn ... helps administrators not only increase business results, but also attract employees more easily.
Other news